Garage doors represent as much as 30% of a home's exterior, making them a fundamental influence on overall curb appeal.1 That being said, it's important to choose a garage door style that will complement your facade without becoming a focal point.
Certain garage door styles may be best suited to your exterior. Read on to explore 7 common home styles and our corresponding garage door recommendations.
Ranch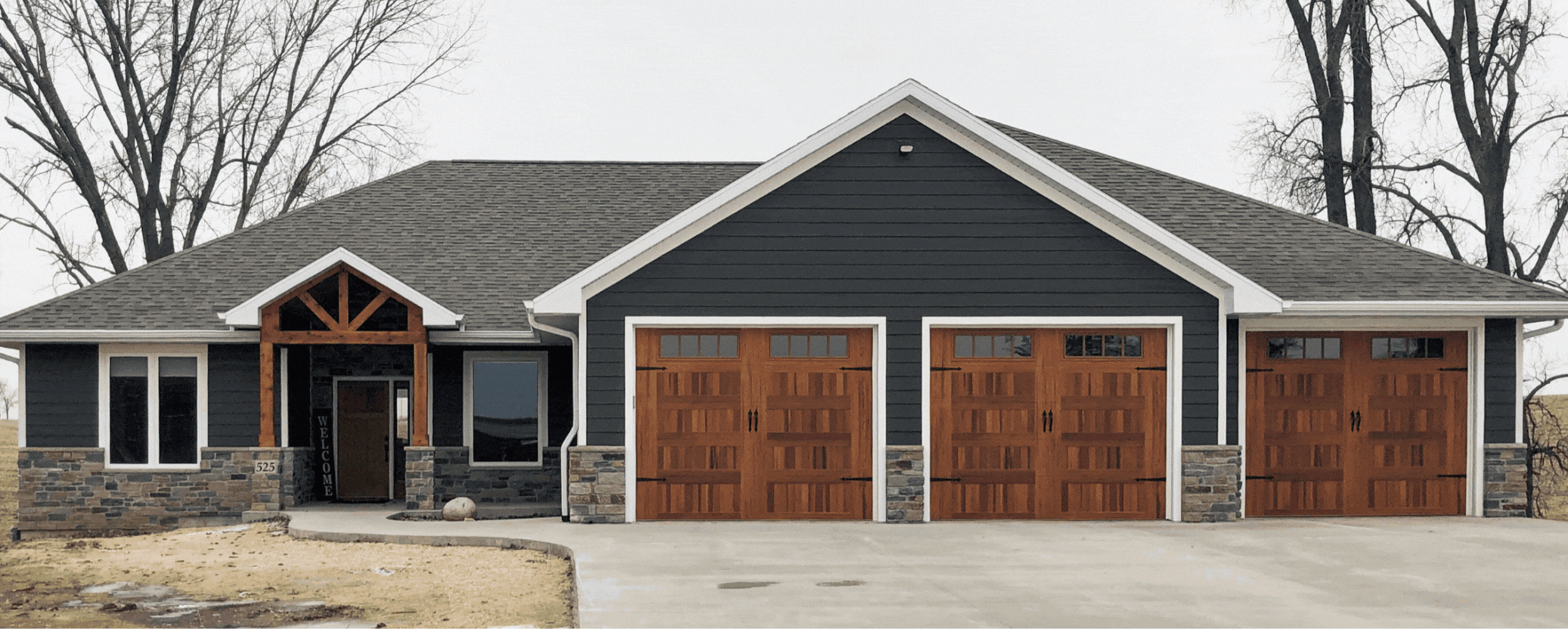 Ranch homes, typically characterized by single-level designs and open-concept layouts, are one of the most popular home styles in the US. We recommend choosing a classic, subtle style garage door for a modest facade, or, for a contemporary application, add dimension with a Planks door. Opt for Madison or Stockton window inserts to enhance the other vertical elements of your exterior.
Recommendations: Stamped Carriage House, Planks, Steel Overlay Carriage House, Raised Panel
Contemporary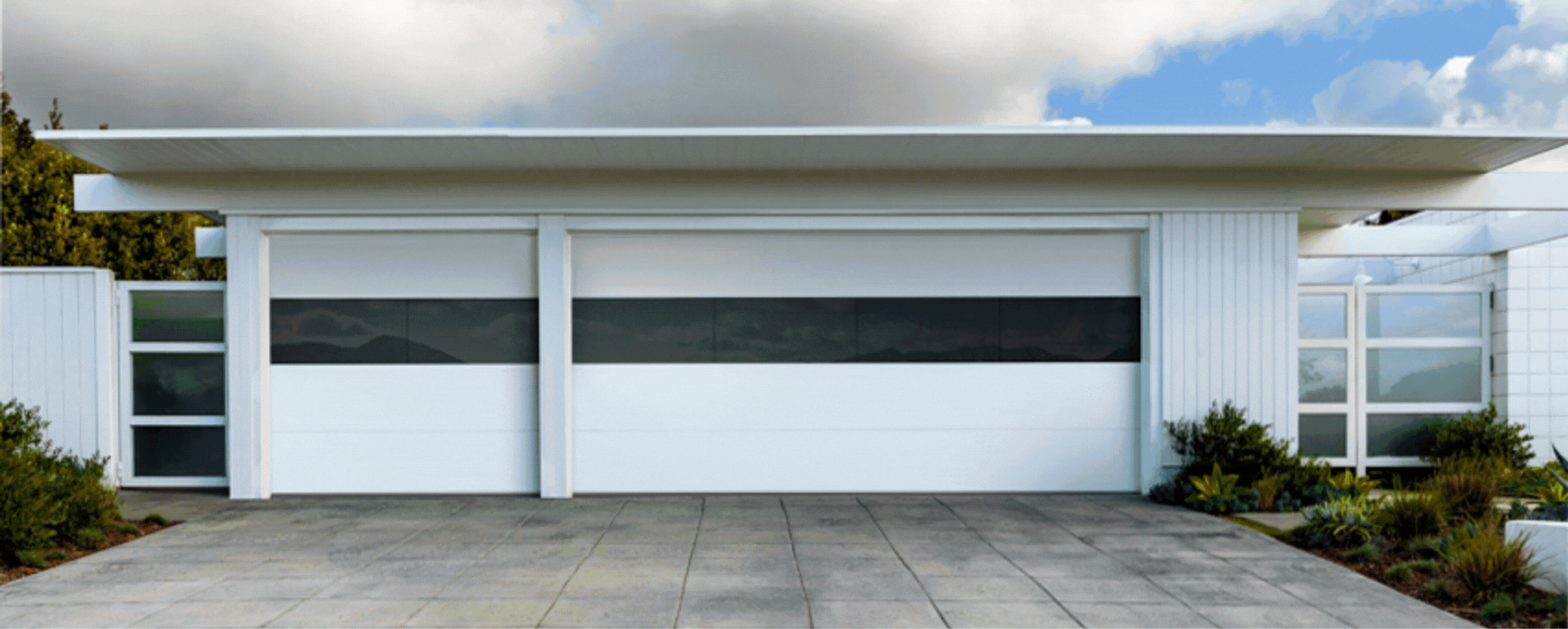 Contemporary style exteriors offer more creativity and striking elements than modern architecture. Often featuring asymmetrical details and plenty of natural light, it's not surprisingly that these homes are considered the most eye-catching exterior style.
Infuse style and character to every aspect of your contemporary home. Choose from the industrial Full-View Aluminum, ultra-sleek Sterling, smooth, minimalist Skyline Flush, or textured Planks.
Use your imagination when deciding on a garage door style for your contemporary home - oftentimes, unconventional ideas pay off. Play around on DoorVisions, our virtual design tool (you can even upload a photo and place your design on your own home!).
Recommendations: Full-View Aluminum, Sterling, Planks, Skyline Flush
Tudor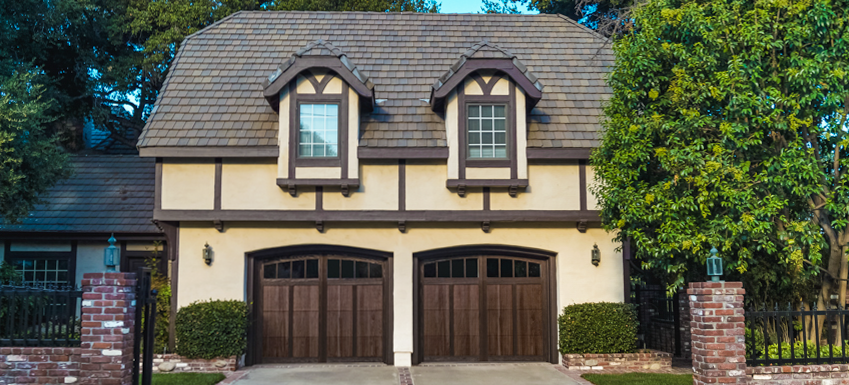 Inspired by late Medieval and early Renaissance architectural styles, Tudor homes are characterized by stucco exteriors and decorative half-timbering. Overlay garage doors best accompany this classic style exterior - choose between our faux wood overlay style, Shoreline, natural wood, or steel.
Recommendations: Shoreline, Wood Overlay Carriage House, Recessed Panel
Craftsman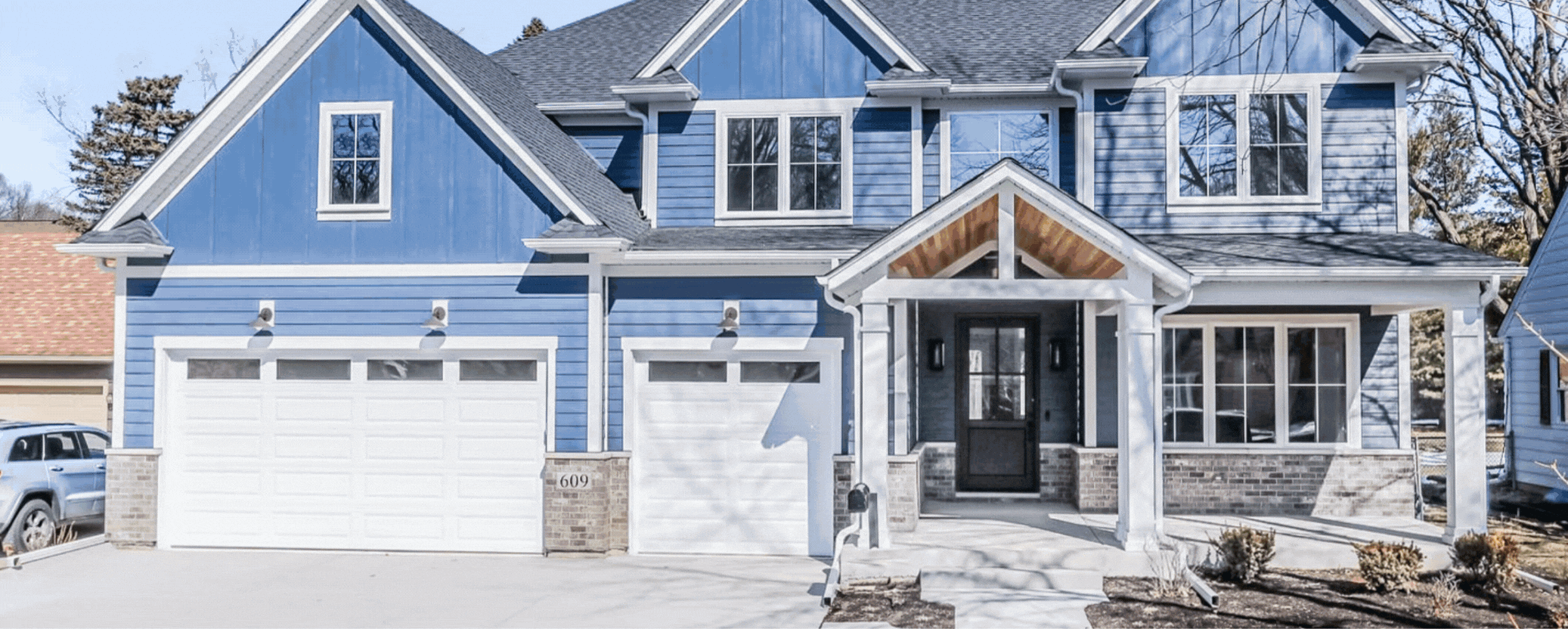 The craftsman home is known for its covered front porch, tapered columns supporting the roof, and mixed stone or brick exterior materials. These exteriors are quite versatile - depending on the look you're going for, there are a number of garage door styles that will complement your craftsman facade.
Recommendations (classic): Raised Panel, Recessed Panel, Stamped Carriage House
Recommendations (bold): Full-View Aluminum, Planks, Skyline Flush
Modern Farmhouse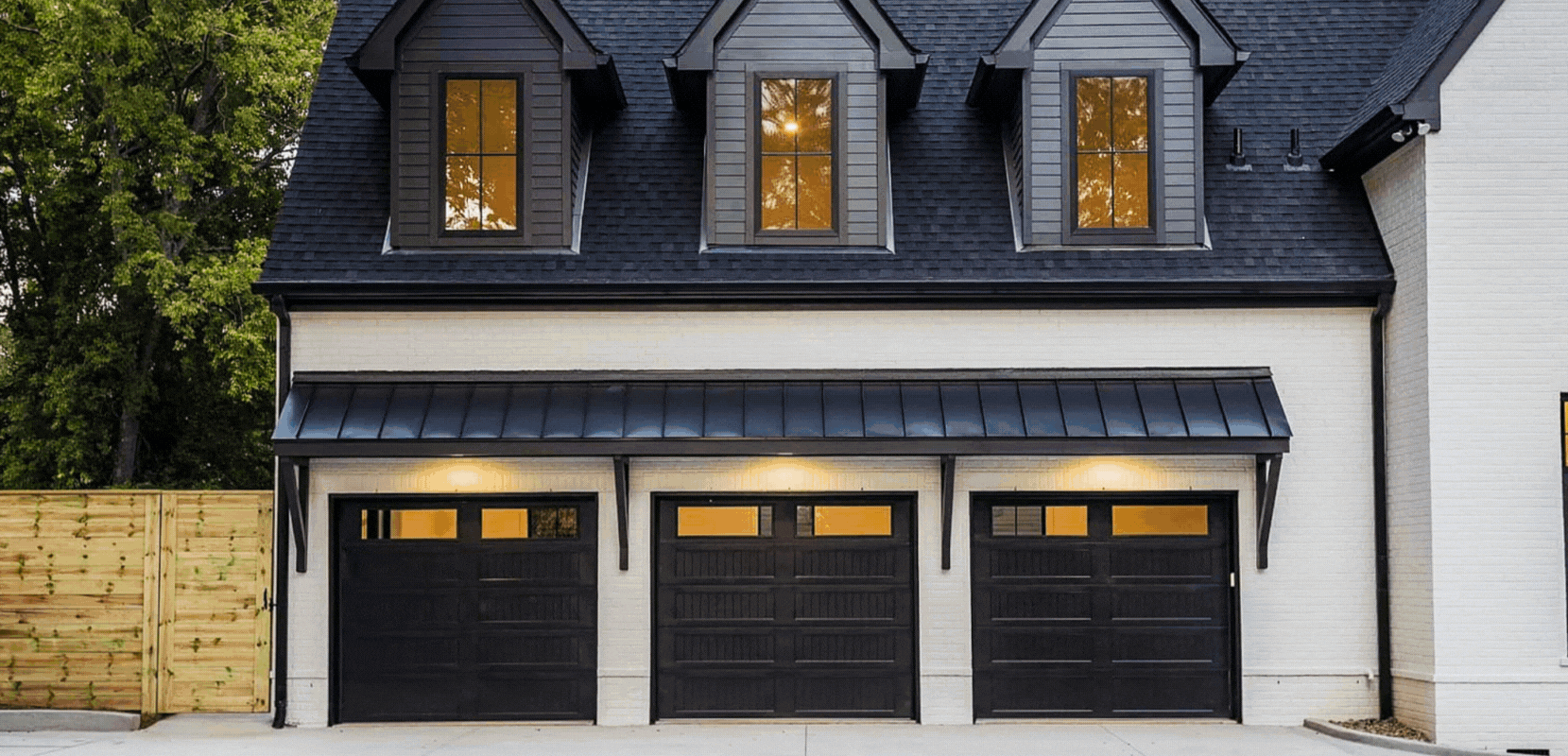 The modern farmhouse home style has rapidly gained popularity in recent years, whether that be exterior design elements or even interior decor. These homes are typically all white, featuring a covered porch, an abundance of windows, and black or natural wood trim.
Carriage house doors are the most popular style garage door in modern farmhouse architecture, as they give the appearance of old-fashioned barn doors. Though some prefer solid color, steel garage doors, others get creative with Accents Woodtones or natural wood. If you're leaning more towards a modern design, you can also consider a sleek Full-View Aluminum glass garage door.
Recommendations (traditional): Overlay Carriage House, Stamped Carriage House, Shoreline, Raised Panel
Recommendations (modern): Full-View Aluminum
Colonial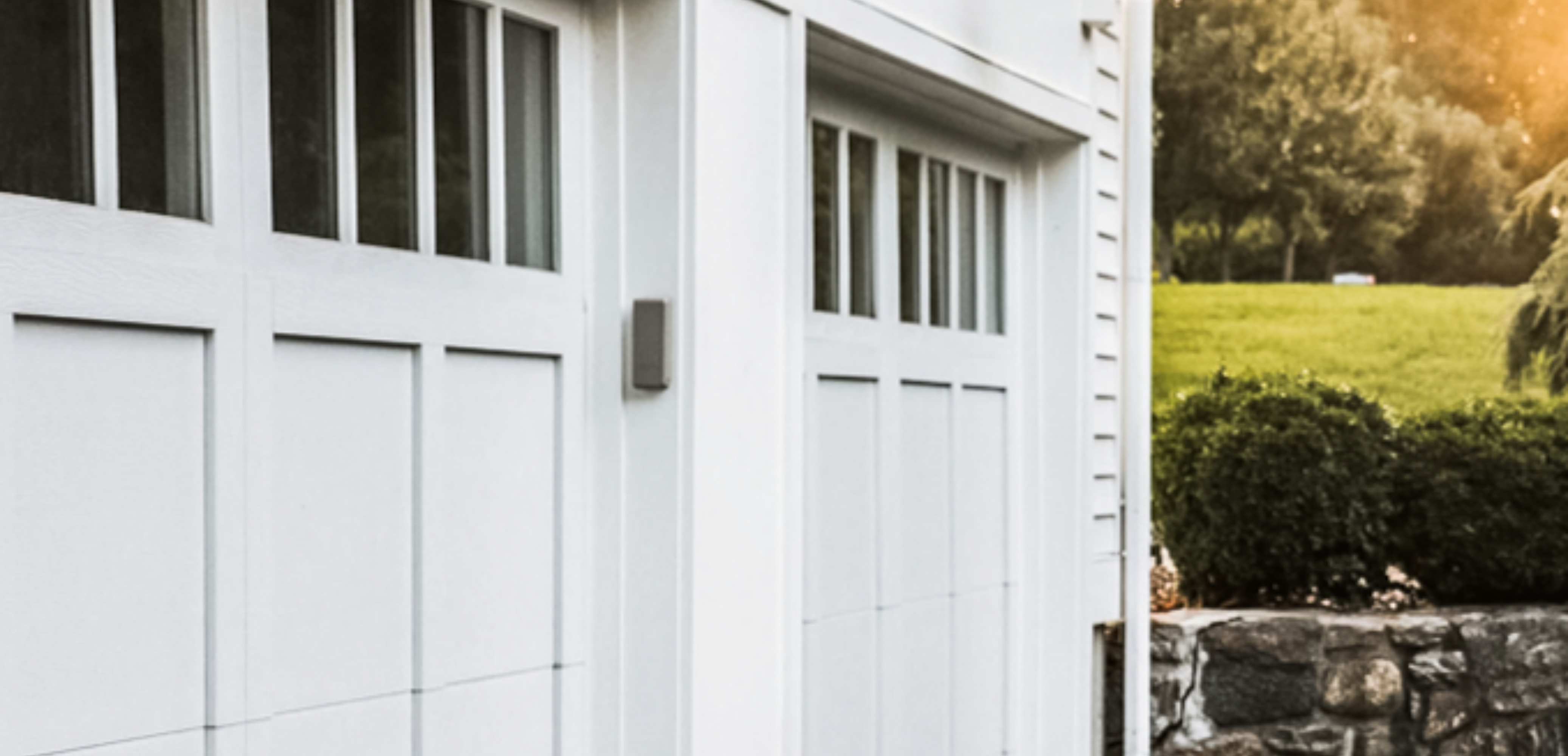 A colonial home is most easily identified by its symmetrical structure and simple, rectangular shape. It's important to choose a garage door that will reflect these characteristics without taking away from your home's historic charm. We recommend choosing a classic, modest style from our Timeless or Carriage Collections.
Recommendations: Raised Panel, Stamped Carriage House, Steel Overlay Carriage House
Mediterranean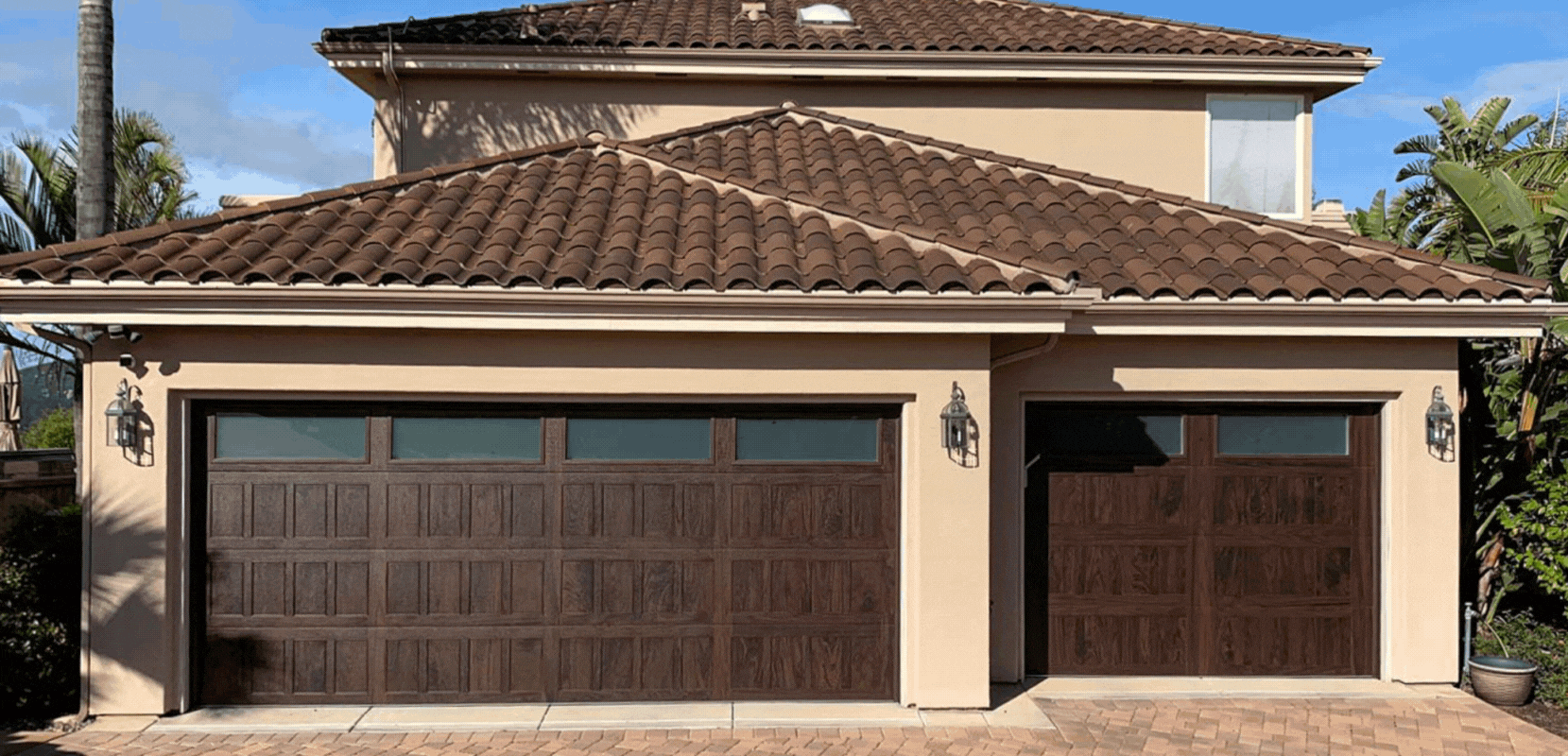 Popular in Southern California and the Southwest, Mediterranean style homes typically feature plaster or stucco exterior surfaces and tiled roofs. Wood garage doors aesthetically pair well with this style home, though faux woodtones are becoming increasingly popular with homeowners not wanting to deal with the maintenance of real wood.
Recommendations: Raised Panel, Stamped Shaker, Wood Overlay Carriage House, Shoreline
---
Next Steps
Once you've narrowed down the garage door styles that best suit your home, your next step is to think about insulation. Though adding insulation to your garage door is generally considered a valuable investment for your home, there are instances where the added cost is not truly necessary. Find out if you need an insulated garage door.
Resources
Deciding on a style, material, and color garage door doesn't have to be time consuming. Our Residential Product Guide highlights which models and options are available, making it simple to find the garage door right for your home.
Still feeling overwhelmed? Our experts are here to help. Find a C.H.I. dealer in your area to get personalized support and help throughout your buying process.