When's the last time you really looked at your garage door? If you're like many homeowners, as long as it still functions, it's not something you're thinking about. Instead, you're probably more focused on sprucing up other areas of your exterior to add curb appeal, such as the landscaping, paint work, and lighting.
However, considering that--on average--the garage area takes up 30% of your exterior, your garage door is actually one of the most prominent elements of your home. Additionally, with an average ROI (Return on Investment) of 95%, residential garage door replacement has the second highest return out of all remodeling projects.1
So what are you waiting for?! Upgrade your residential garage doors to maximize curb appeal while increasing the value of your home. Continue reading to scroll through 14 of our favorite exterior facelifts (featuring C.H.I. garage doors, of course) that'll inspire your next renovation.
---
| Planks in
Walnut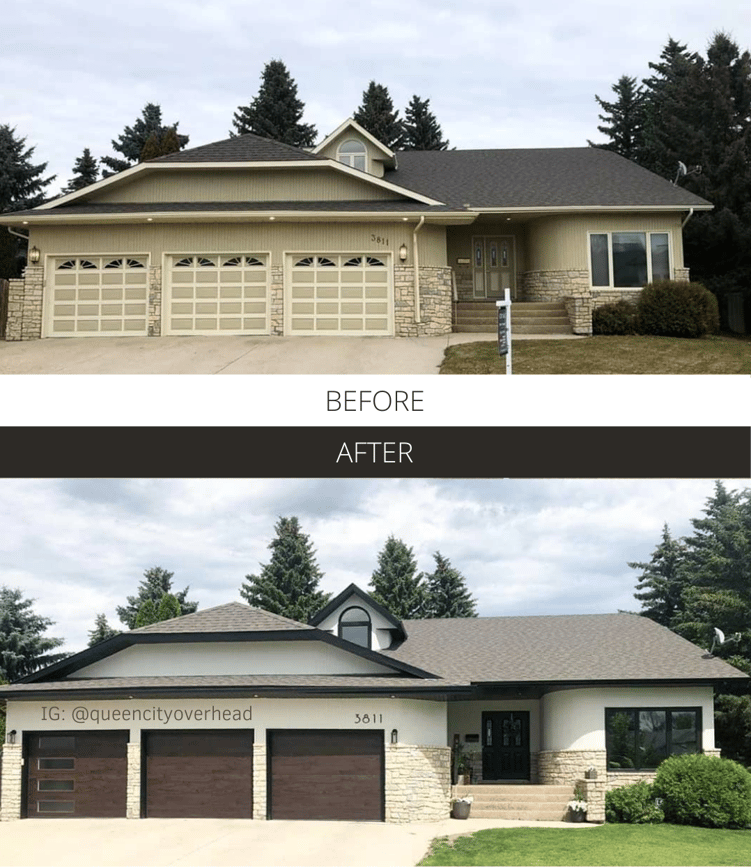 Our friends at Queen City Overhead in Saskatchewan, Canada amped up this homeowner's curb appeal with three new wood look plank garage doors in Walnut. Vertically-stacked windows on just one of the doors, a popular tactic in contemporary home design, complements the asymmetry of this home and ties all the other upgrades together.
| Full-View Aluminum in
Bronze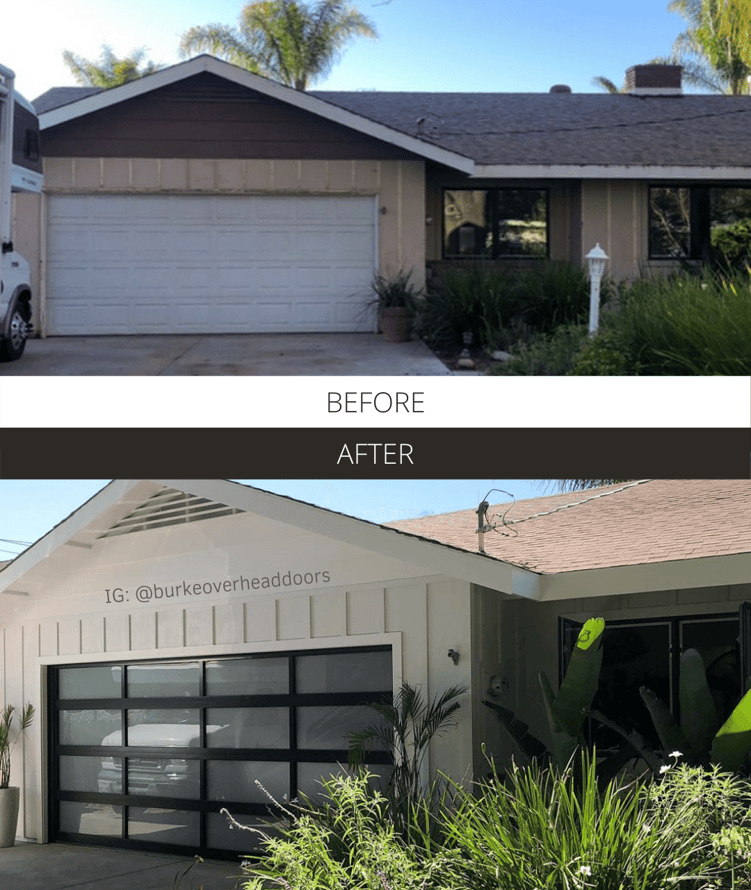 How do you maximize curb appeal when your garage door is the dominating factor of your home's exterior? Easy - you get an ultra-modern residential garage door! Full-View Aluminum garage doors (shown in Bronze with Frosted glass) add a contemporary flair to this facade -- frosted glass lets plenty of natural light into your garage, while still preventing nosy neighbors from peeking inside.
| Planks in
Natural Oak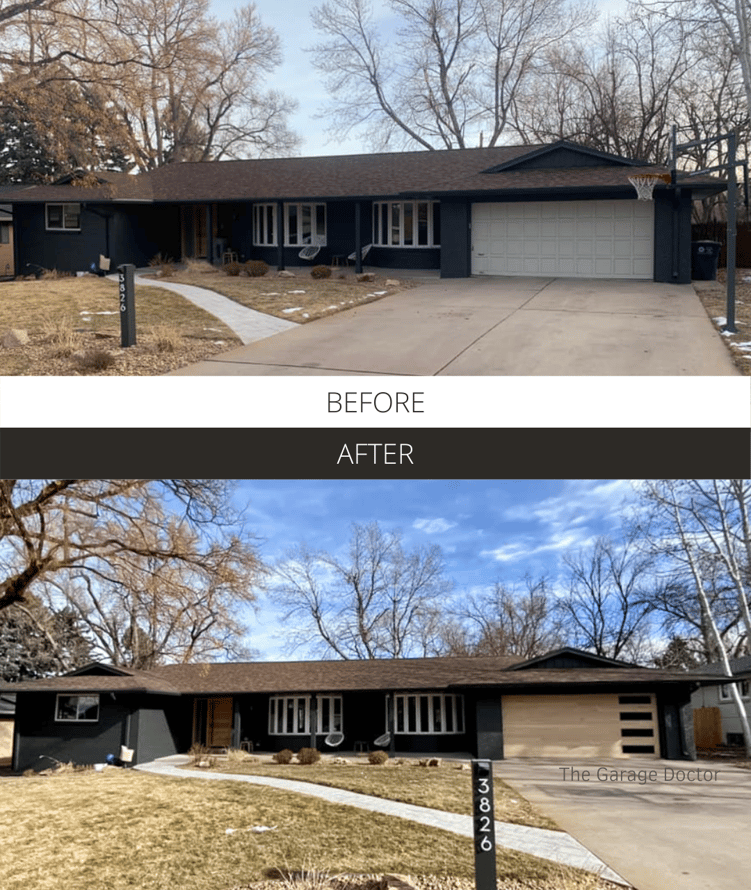 When your residential garage door takes up 30% of your exterior, the style you choose can make or break your curb appeal. Can you believe that the only difference between these two photos is the garage door?! The Garage Doctor in Denver, CO installed this beautiful Planks garage door in Natural Oak to go with this home's modern front door.
| Raised Panel in
Cedar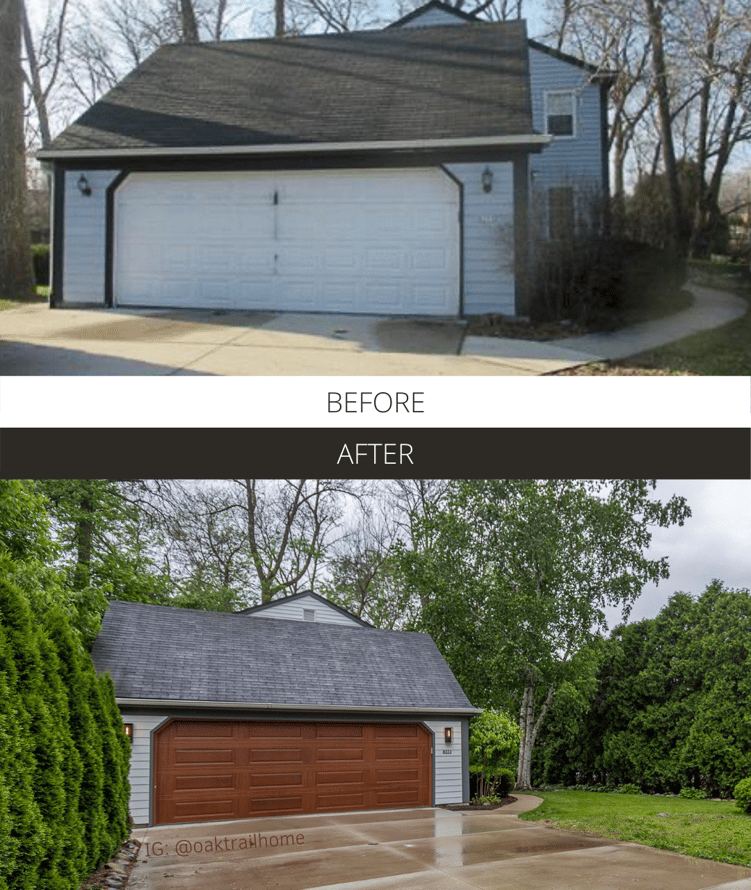 Your garage door might not be on the street-facing side of your house, but that doesn't make it any less important. This homeowner chose our Raised Panel garage door in Cedar to mimic the beauty and texture of real wood. What an upgrade!
| Skyline Flush in
Driftwood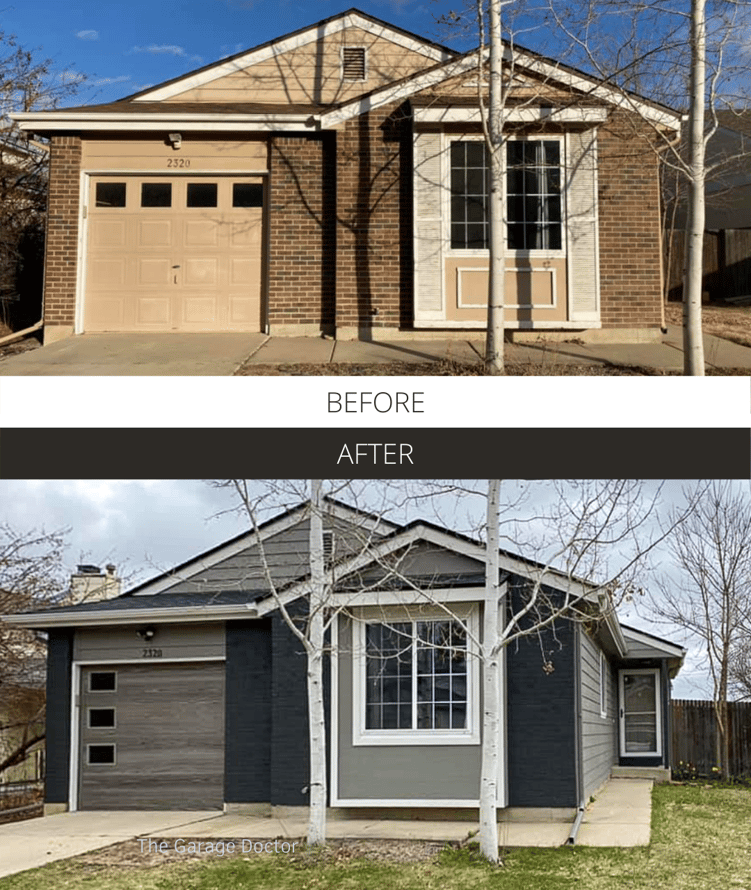 Smaller spaces sometimes have the most to gain from a little TLC. Make use of what space you do have by adding personality to each and every element of your exterior. Our Skyline Flush garage door in Driftwood adds even more dimension to this house flip in Denver, CO.
| Planks in
Cedar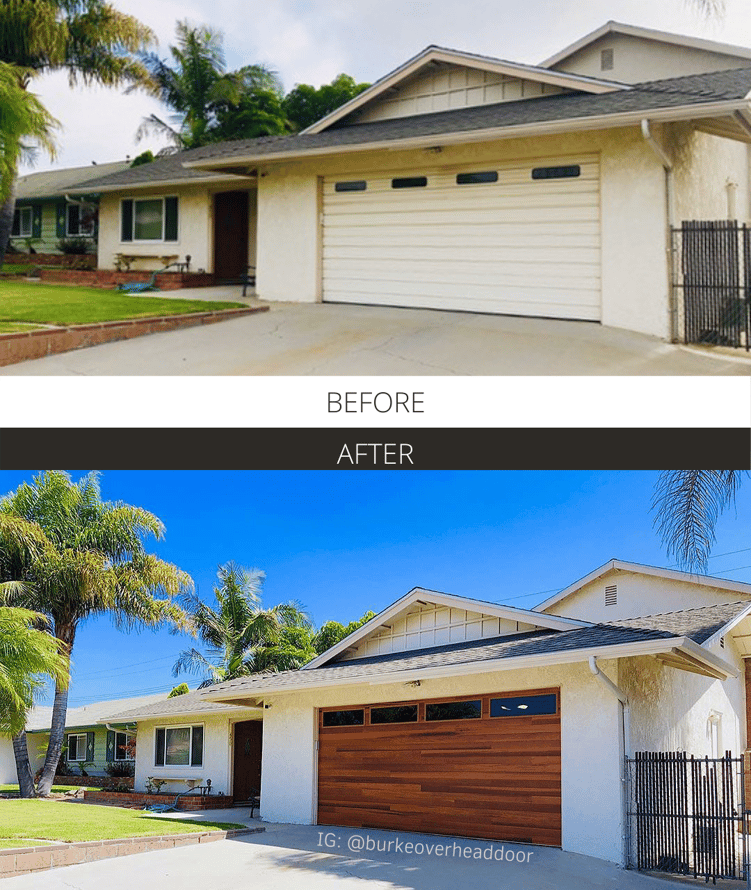 Gone are the days of the boring, cookie-cutter garage door. Our friends at Burke Overhead Door in Ventura, CA swapped out the eyesore in the before photo for a stunning wood look Planks garage door in Cedar. The top row of windows maximizes its appeal while letting plenty of natural light into the garage.
| Stamped Shaker in
Dark Oak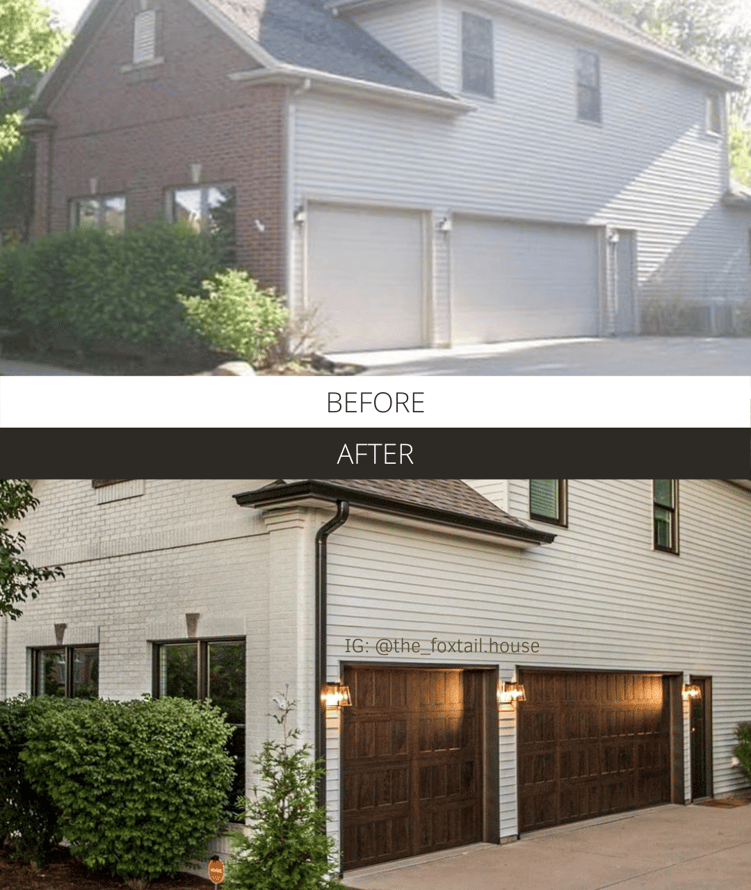 Are you wanting to give your home more than just a subtle upgrade? Try swapping out your dull, solid-colored garage doors for a rich, spirited woodtone and timeless style. Our Stamped Shaker garage doors in Dark Oak give this home a lavish and upscale feel -- quite a step up from the before picture!
| Planks in
Cedar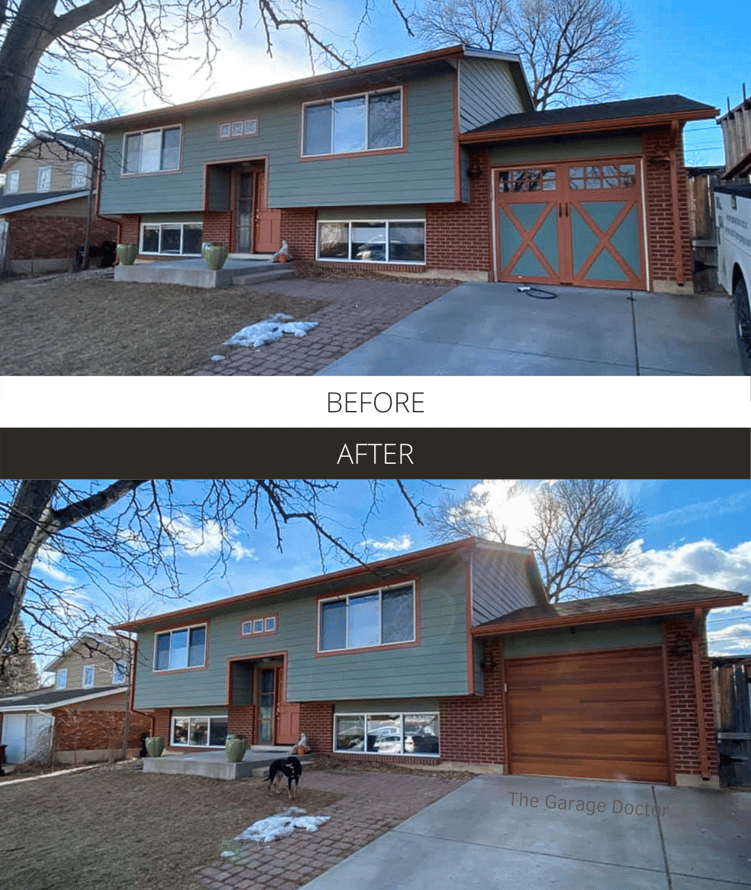 Is your garage door making your entire house look outdated? That was the case for this Denver, CO home. A great way to refresh your exterior without spending thousands on renovations is to upgrade your garage door and front entry door together. What style front door would you pair with our wood look Planks garage door in Cedar?
Learn the dos and don'ts of matching your garage door to your front entry door.
| Skyline Flush in
Black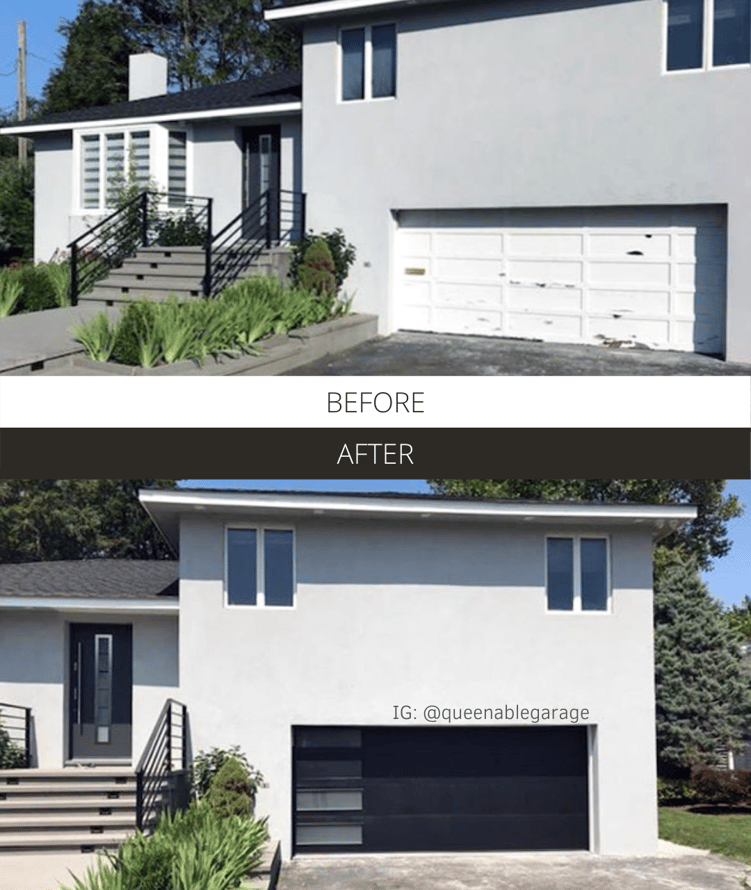 This transformation really makes you appreciate the value of a new garage door. Without making any other changes to their exterior, this homeowner skyrocketed their curb appeal by simply replacing their garage door with a Skyline Flush garage door from the Contemporary Collection. Out with the old, in with the new!
| Stamped Shaker in
Black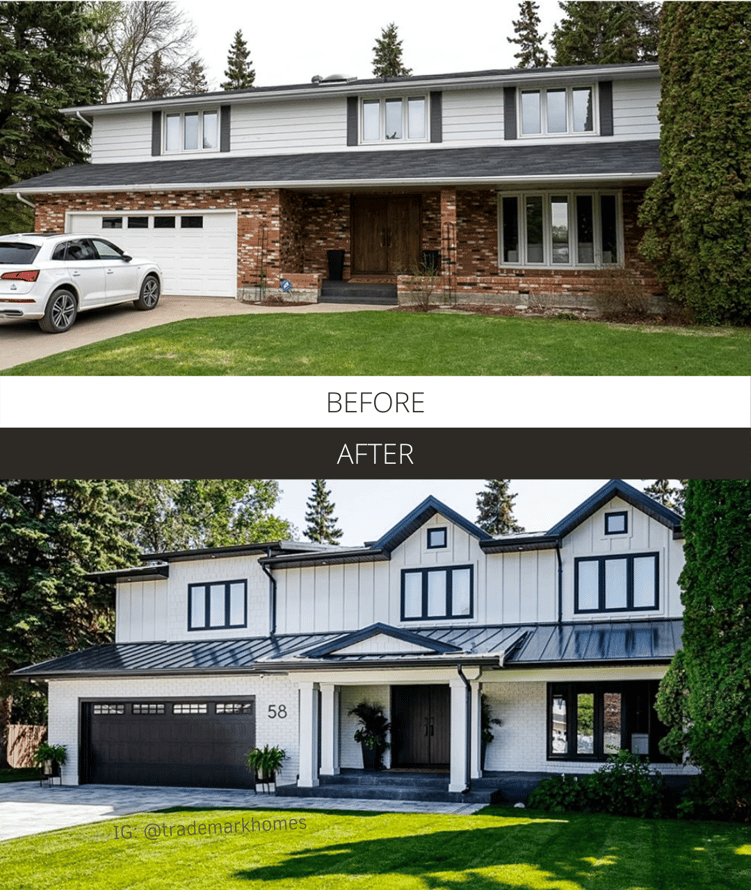 This transformation from an executive-style home built in the 1960's to a gorgeous, on-trend modern farmhouse design is sparking some major inspiration in us. Our Stamped Shaker garage door balances out the contrasting elements of this exterior - perfect color and model choice!
What's YOUR house capable of? Your dream home could be sitting right under your nose...
| Planks in
Carbon Oak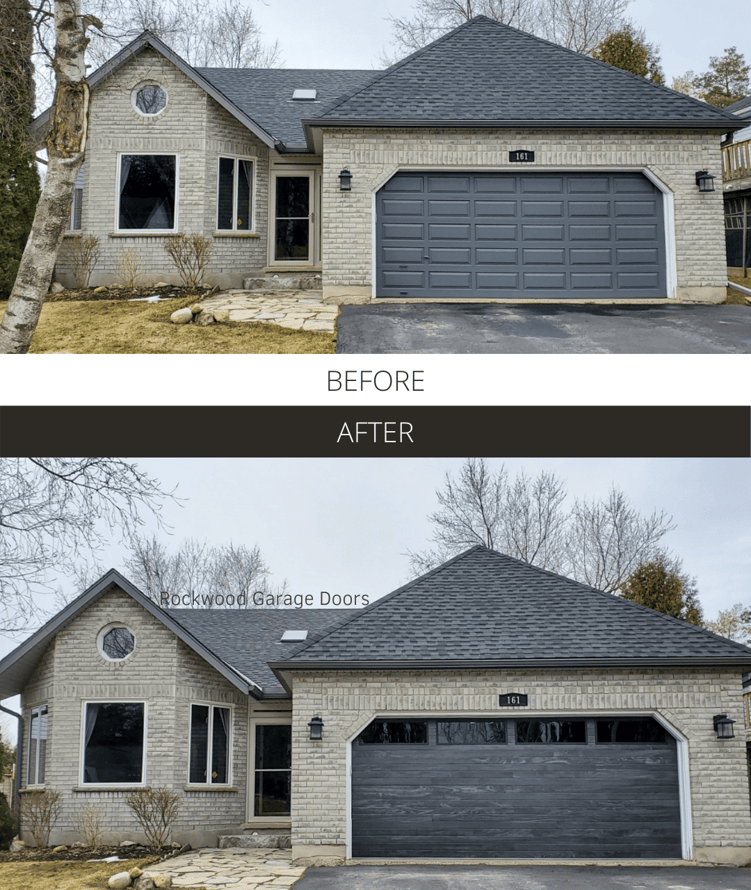 You might not want to completely transform the look of your house -- and there's nothing wrong with that! This before and after is a great example of a relatively modest change that had a remarkable effect on this home's curb appeal. Carbon Oak, the newest addition to our Accents Woodtones, was a near-perfect color match for their old garage door -- however, the defined grain pattern on our Planks garage door adds texture and a new sense of character to the facade.
| Steel Overlay Carriage House in
White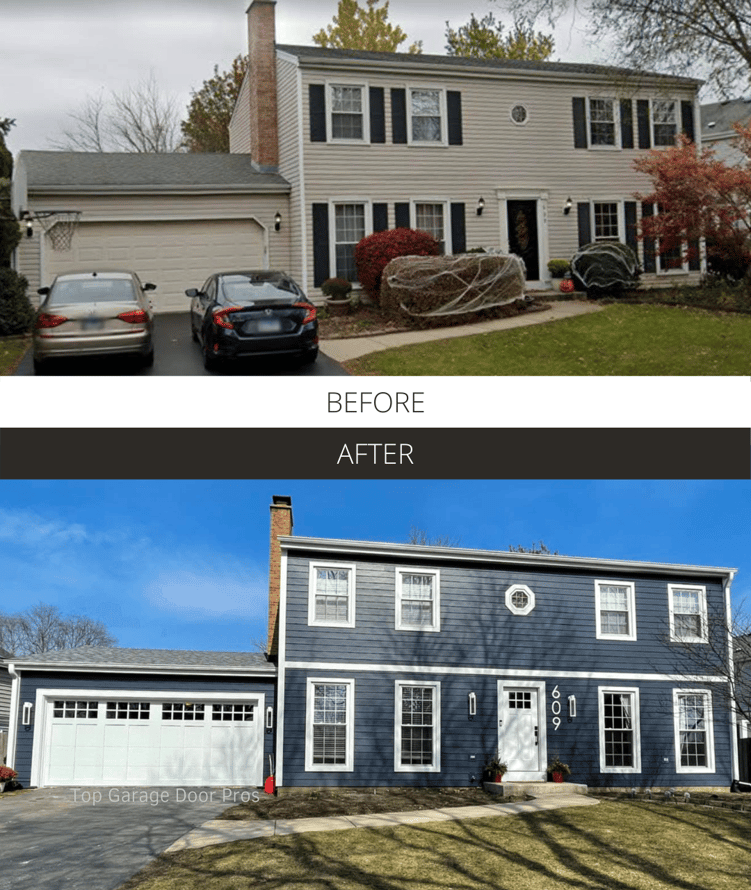 Don't forget to consider the cost of a new garage door when you're working on the budget for your upcoming renovation project. This final product just wouldn't have been the same if these homeowners hadn't upgraded to a Steel Overlay Carriage House garage door from the Carriage Collection. Stockton window inserts match the front door perfectly!
| Planks in
Cedar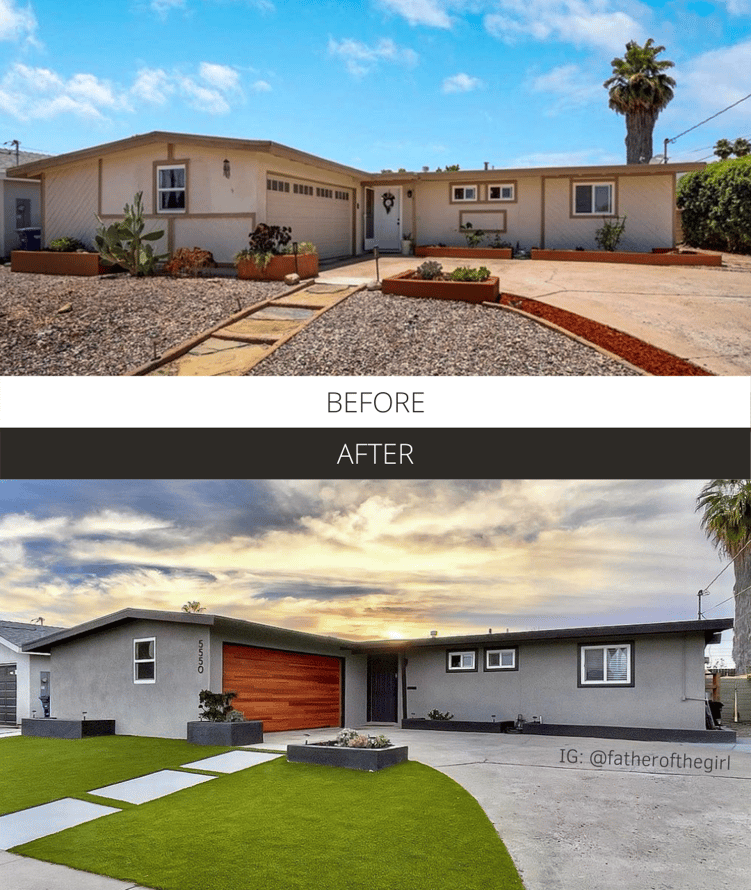 If you follow us on Instagram, you've probably already seen this one - but we just couldn't resist including it in our top 14 makeovers blog. This homeowner saw the potential in this Southern California home and chose our ever-so-popular wood look Planks garage door in Cedar to complete its new look.
| Shoreline in
Walnut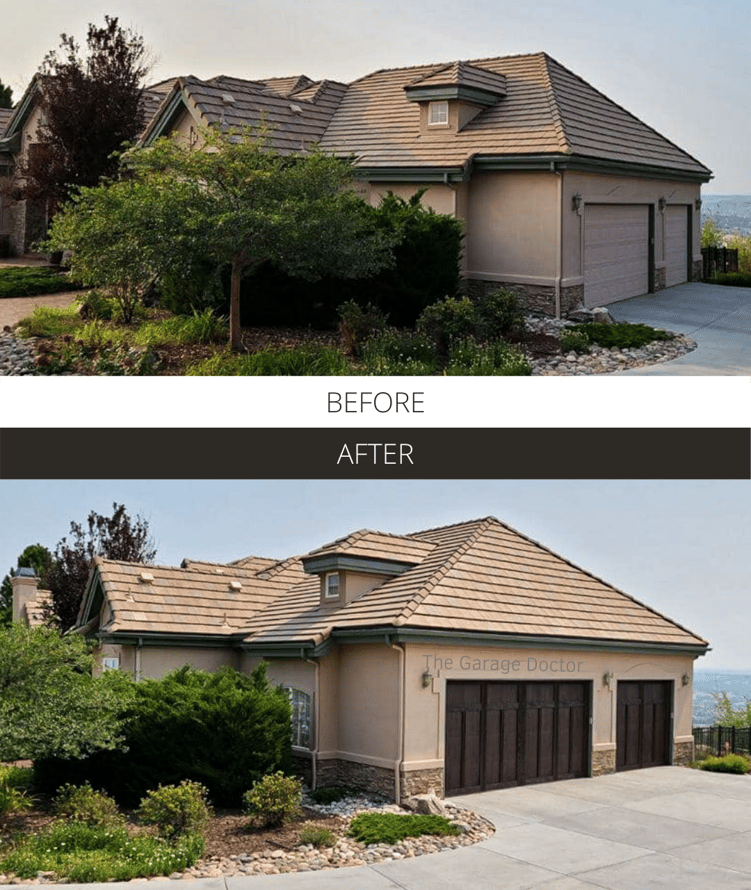 Imagine having this beautiful view...but feeling like you have to crop your dingy garage doors out of all your photos before sharing them on Facebook. This homeowner opted for our Shoreline overlay garage doors in Walnut to mimic the appeal of natural wood -- but maintain the reliability and durability of steel construction.
---
Need more inspiration? Explore more before and after projects on our Pinterest board!