Homeowners know there is always more room for improvement somewhere on their property. Deciding what to work on next can feel overwhelming as you simultaneously consider cost versus value alongside the mental picture you have envisioned since you first moved into your home.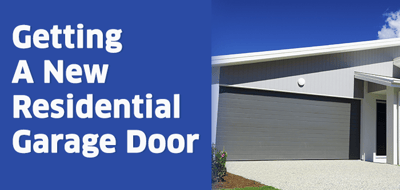 Is a new residential garage door the best choice for your next big upgrade? Those of us who make these important decisions agree that projects with the biggest impact should come first. So, how do we prioritize with so many factors at play? Here are some points to consider:
Think about the current condition of your residential garage door. Do you pause in the driveway probing the door opener for the button's sweet spot? Do you strain to lift the door even when its old, warped tracks are lubricated? Do you find repeatedly scraping and painting it a thankless task? Replacement alleviates unnecessary day to day aggravations and frees up your summer maintenance time for more rewarding projects.


Are you making improvements because you plan to list your home on the market? Since 70.1% of buyers prioritize curb appeal, homeowners looking to sell start by looking at the exterior. The first impression sets the tone for the entire viewing. A handsome new residential garage door that glides up the track smoothly sends a clear message that yours is a well maintained house that would be a pleasure to come home to.


Do you want better architectural accuracy? With more styles continually being introduced, C.H.I. has the right residential garage door for your home. You don't have to be an expert on home facades to select a garage door that is consistent with your home's period or style.


Match other changes – improvements made to a home's exterior can create a need for other coordinating updates. If you change the color or architectural profile of your home, you may need a new residential garage door, too. A certified C.H.I. distributor can help you choose the right style and finish to complement new shutters, a different roof color, or new windows.


Security concerns change with time. Over the course of our lives we drive nicer vehicles, invest in tools, collect sports equipment, and generally have more valuables in the garage. Knowing an updated residential garage door will make the garage as secure as the rest of your home will give you piece of mind.


Energy efficiency improvements matter more and more. The cost of heating and cooling our homes is ever-increasing. We want to use less energy for conscientious reasons, too. Don't overlook the garage as a huge potential point of energy loss. The grade of insulation sufficient for your home varies by climate.


No daylight in the garage? A few small windows can transform your garage into another livable area of your home. glass panels are available in hundreds of combinations of frames and glass options that let in the light. We offer many beautiful textures of glass which add character while giving you privacy. Improving the garage can give you an appropriate space for hobbies with bulky equipment like a weight lifting bench or plant potting station.
Security, appearance, ease of access, or another consideration unique to your situation are all fantastic reasons to shop for a new overhead door. Let one of our experts help you today!